It's been a year since Mark Zuckerberg, founder of Facebook, popularized the term "metaverse." This is how he indicated in October 2021, at a company event, his new and ambitious project: developing an accessible, immersive virtual environment with a 3D viewer that gives a new meaning to communication. The idea is that the Internet is all around us, that we are literally stepping into the web, and that browsing ceases to be something that turns off as soon as we take our eyes off the screens. He realized that the technology needed to realize his dream did not yet exist; It's a plan for years or decades to come. But this is clearly the way. So much so that his company is now called Meta.
What is left of all that? The water is a bit choppy in the offices of Menlo Park, the company's headquarters. The tech giant is going through a delicate moment. If in 2021 you had a severe reputational crisis at the hands of leaks by Frances Hogan, a former Facebook employee who revealed, among other things, that Instagram managers knew the social network was toxic to teens and did nothing to change it, 2022 is also a proof of complexity. This was the first course where Facebook lost users rather than gained them. Meta has left 70% of its value in the stock market so far this year, which has cost Mark Zuckerberg $100 billion in his personal fortune.
Group profit was halved in the third quarter. Analysts attribute this to the economic situation and competition from TikTok, but also to the fact that Apple now allows users to choose not to be tracked when they surf the Internet (Facebook lives off the fragmented ads it regulates thanks to this tracking). This situation prompted the billionaire to announce a hiring freeze, unprecedented in an ever-expanding company, and to signal a workforce restructuring in 2023.
The Meta has decided to show significant progress on the first anniversary of the unveiling of the Meta World. The star announcement was the launch of the Meta Quest Pro, high-end glasses aimed at the professional chip that improve the performance of their predecessors (Quest 2), which they will continue to live with, offering mixed reality: they are able to display 3D digital objects in the physical environment in which we find ourselves . There is consensus that they are the best eyeglasses on the market.
Sure laugh at Zuckerberg's stock crash but remember that in five years he'll have your eyeballs and he'll pause ads every time you blink pic.twitter.com/607z7g7iQW

—Edward Snowden (@Snowden) October 27 2022
The metaverse is, at the moment, an exorbitant investment: about 15 million Quest 2 cups and . have been sold Saber won, the most successful video game on the platform, brought in $100 million. These aren't bad numbers, but they pale in comparison to the tens of billions allocated to the project. While the glasses have been well received, the content portion of the meta metaverse is missing. Horizon Worlds, the great space for social networking, is a kind of Facebook on the go. I call it dejaverse [un juego de palabras entre déjà vu y metaverse]: We've already seen it before and it doesn't work," explains Avi Bar-Zeev to EL PAÍS, who for more than 30 years has developed virtual and augmented reality technology for companies like Microsoft (where he created and led Hololens), Amazon, Google, Apple, Niantic or Disney. "Some 3D worlds work well, but only when there is a good reason for people to interact with them, such as in video games. fortnite also Maine Craft.
Zuckerberg has received criticism for devoting too many resources to metaverses while his company's income is showing signs of weakness, even though the group's accounts are sound. He sees it the other way around: the metaverse will be the answer because it will attract a young audience fleeing social networks and enjoying the interaction of immersive video games. A recent Bain and Company study revealed that the majority of 13-17 year olds prefer interacting with their friends through video games rather than communicating through social networks, a less strong trend for 18 to 34 year olds. Internet Relationship Users under the age of 17 are more divided than previous generations: they do not accept the rules imposed on them, they search for new things and communicate sporadically.
The metaverse is being built for Generation Z [los nacidos en el siglo XXI]Everything should be ready when they have the purchasing power. They are the target audience for two reasons. First, because primary metrics for video games like fortnite also RobloxThey are used to spending money there, they were born with it. And second, because they place so much importance on their digital lives, almost like the real world," explains Edgar Martin Blass, CEO of Virtual Voyagers. start He's been with Meta since 2020 when he developed an environment for Facebook to host virtual concerts. This year it was acquired by the California-based Utopia Group, which specializes in the manufacture of custom corporate meters.
The billionaire has been working on this project at least since Facebook bought Oculus, the maker of virtual reality glasses, in 2014. Why did you decide to reveal your plans in 2021 and not then? At the time, it was interpreted as a coup to get rid of the many reputation problems that were lurking around him. "It seems clear that Meta has jumped. I think the main reason for this jump was not the state of the platforms or the technology, but the intention to move the brand, which has been criticized," says Pierre Born, Professor of Computer Science at Uberta de Catalunya (UOC) An expert in virtual reality and its applications. "We don't yet know what form the metaverse will take. And we will need patience: it took decades for the Internet to take its current form. I find it hard to believe that in three or five years everyone will have VR glasses at home."
Movements in the industry
Zuckerberg's meticulous presentation of his idea to society had repercussions. Despite being a fuzzy concept and relying on technology, virtual reality, which has been around for decades but has yet to materialize, the metaverse has caught the attention of companies. The industry has bought into the rhetoric: the traditional Internet is becoming saturated, and the future is passing through a new and immersive medium. Microsoft barely took a week to announce its project to lead the "metaverse of the work environment" and two months later it bought Activision Blizzard for 69,000 million euros, as the video game developer Call of duty also world of cans (The company's CEO, Satya Nadella, said "it's a big step" in the metaverse.)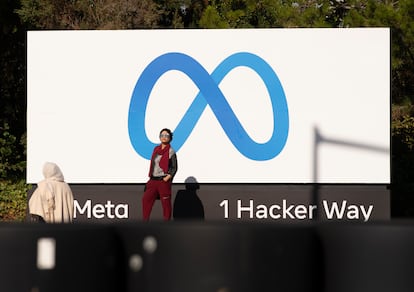 Less than a month ago, in an unexpected plot, Nadella himself, together with Zuckerberg, announced a cooperation agreement between the two companies: the Office package and the Windows operating system can be used with Meta glasses. The big technology They begin to understand that the metaverse is incomprehensible to a single company. "That's not to say Microsoft threw in the towel; while also bringing its products to the Mac, its big PC competitor. I see it as a transitional agreement," says Victor Javier Perez, Metaverso Executive Program Coordinator at ISDI Business School.
The movements follow each other. ByteDance, the Chinese company that owns TikTok, bought virtual reality headset maker Pico Interactive this summer and is already Meta's main competitor in the hardware division with its Pico 4s. Google still does not use the term metaverse, but has introduced a prototype of augmented reality glasses capable of translating and displaying translations in real time. Apple remains unconfirmed, but rumors that it will release mixed reality glasses next year were reinforced when an advanced prototype that was shown to the company's top executives was leaked. Sony will release a console in February, the PSVR2, with virtual reality glasses that promise high-quality experiences.
There is also activity on the content side. A large number of brands have developed their own virtual worlds with greater or less success. Deutsche Bank estimates that by 2030 the retail trade of metaverses will be worth $2 trillion. "Many companies have already set up their internal metaverse departments. Brands are not focusing on this at the moment as a means of instant income: they want to be there and understand the user, see what this environment offers, and have information to make better decisions in the future," explains Martin Blass. .
Meanwhile, China regulates its industry with a focus on the West. It is clear in the party that they cannot let this train pass if they want to continue to be a technological superpower. His position is cautious at the moment: there are investments, but they are not huge. Everything is ready to go to work if successful. Behind closed doors, Beijing sees the metaverse as a useful tool for transmitting national values ​​and abounds in social control.
being under construction
It does not have a meta, although the company has changed its name to take advantage of the concept. There are many metaverses or virtual environments in which you can immerse yourself in the search for different experiences. The idea that Meta's proposal trumps all others seems absurd to Bar Zeev. "The popularity of virtual worlds like Roblox It comes from interaction, not from building a large space and expecting people to come there to spend money or friends," says the California-born Israeli. "It may not be possible to build a virtual world that appeals to everyone, but the diversity of spaces and styles can appeal to just about anyone. ."
The sector is indicated in this line. Nike or Vodafone have developed their own metaverss, and several other big companies are working on it. The next logical step would be the interconnection of those worlds. In order for the experience to be smooth, users must be able to take their avatar with their attributes and characteristics Pocket wallet (or virtual wallet) from one metaverse to another without having to register every time. The market's obsession now is getting there," describes Martin Blass.
Zuckerberg still aspires to lead this wave. "It does what it takes to have a good platform (hardware, operating system, build tools, etc.) 10 years from now. The big question is whether people will trust Meta. Masks collect very sensitive data from users: retina tracking. , facial recognition, and external cameras to understand the physical environment. Although the name has changed, we all know the history of Facebook," says Anthony Vitiello, chief technology officer of the events company at Metaverse Vrroom and author of the specialist blog The Ghost Howls. "We hope one day we can trust them to make good use of all this new vital information they will now gather," Bar-Zeev says. "But for that to happen, it has to change a lot of things."
Will metaphysics win then? no one knows. Although Vitillo is clear: "If I told you 25 years ago that you were going to live online through a little black box that you'd carry in your pocket and you'd know all day, you would have taken me crazy."
You can follow country technology in Facebook s Twitter Or sign up here to receive Weekly Bulletin.
Subscribe to continue reading
Unlimited reading