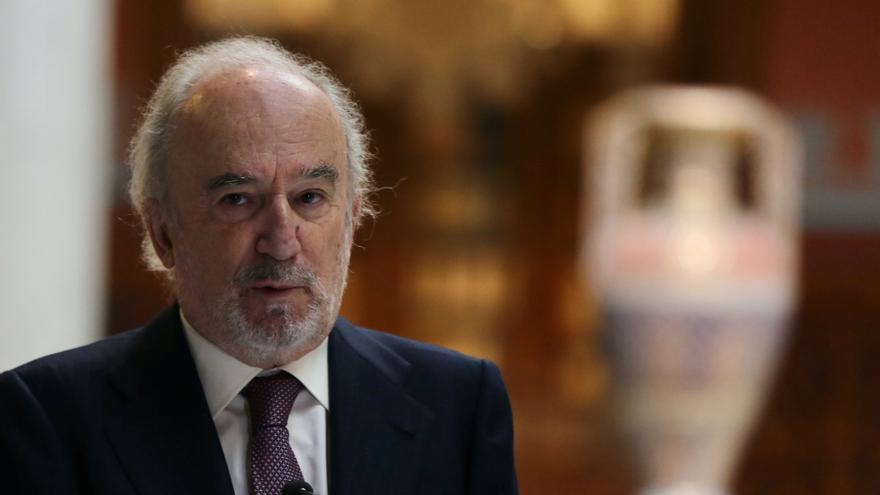 The Plenary Session of the Royal Spanish Academy (RAE) was re-elected on Thursday, December 1, Santiago Muñoz Machado (Pozoblanco, Córdoba, 1949) as Director of the Foundation, as stated by the Foundation.
The Professor, essay writer and editor He will continue to lead RAE, and is its 31st Director having been appointed in December 2018 and assumed office on January 10, 2019.
It comes with an extension The first re-election in the past 12 yearsbeing the last to correspond to the extraordinary mandate of Academician Víctor García de la Concha, current Honorary Director of the Foundation, in 2006.
After Thursday's vote, the Director of the Academy also continues to hold the position of President of the Association of Academies of the Spanish Language (ASALE), according to the statutes of this organization, created in Mexico in 1951.
In the closed session, two more positions were also elected: the philologist Aurora Ejido was appointed librarian, and the Hellenist Carlos García Gual, a second member. They will hold these positions on the RAE Board of Directors for a period of four years, as stipulated in the Company's Articles of Association.
Muñoz Machado (Pozoblanco-Córdoba 1949) is An expert jurist in public law and administrative law. He was elected as an academic on December 13, 2012, and took office on May 26, 2013 with a speech titled "Paths to Free Speech." Jose Manuel Sanchez Ron responded on behalf of the company. Between 2015 and 2017 he was Secretary of the Foundation.
He held several professional or honorary positions: Director of the Technical Office of the Spanish Federation of Free Private Televisions, President of the Spanish Society of Audiovisual Law, Vice-President of the Spanish Federation of Institutions and member of the editorial boards. from various specialized technical magazines.
Among his most influential works are those related to the third sector and the social activity of the state, those related to the law of autonomous regions and those devoted to the study of the law of economic organization. And his great book of authorship, "Thesis on Administrative Law and General Public Law"which is the reference work on the subject, both in Spain and in other countries.
He is also the author of nonfiction books such as "Riofrío" (2010); From historical investigations, "The Problem of State Structure in Spain" (2006); For biographical studies, "Sepúlveda, cronista del Emperador" (2012) and essays on current issues such as "Report on Spain: Rethinking or Destroying the State" (2012), work awarded with National Essay Award 2013.
Related news
We speak the same language, a work that presents the political history of the Spanish language in Latin America from discovery to independence, was awarded the 2018 Spanish National History Prize.
In addition, he is a member of the Royal Academy of Moral and Political Sciences, a member of the National Academy of Law and Social Sciences in Buenos Aires and a member of the International Academy of Comparative Law.